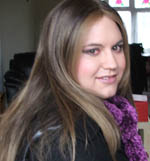 Today me and my gf had some fun taking some new pics and trying out makeup on each other. I made her look all vampy and goth which looked totally sexy and then i went a bit too far and added blood dripping from her mouth hehe.
If you remember i have written a likkle bit for Repartee magazine and the pics we took today are to go with the article... Dont worry i have saved the best pics for the magazine... Although these ones are still really great dontcha think?
My gf did my makeup for these pics and i think she makes it look very natural too. We took a few in the house cos the light was nice and then we went into town. Taking a few pics on the way we returned home.
So my latest adventure was really sweet, to finally go out with my gf all dressed up in the daytime was soooooooo cool! :)